FIRE EXTINGUISHER 6 KG 3MTM NOVECTM 1230
Code: T6N
Type: T6N
Rating: 21B
Weight of extingushing agent: 6 kg
Certificates: ČSN EN 3-7
Fire classes: B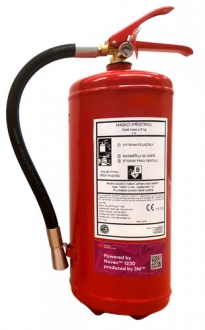 This fire extinguisher contains pure extinguishing agent 3MTM NovecTM 1230 (an alternative to fluorinated greenhouse gas fire extinguishers).
The device is under constant pressure, which is visible on the manometer installed on the valve.
The agent is non-toxic. Protect the extinguisher from heat, hot surfaces, sparks, open flames and other ignition sources. Do not pierce or dispose in a fire, even after use.