ALU-L381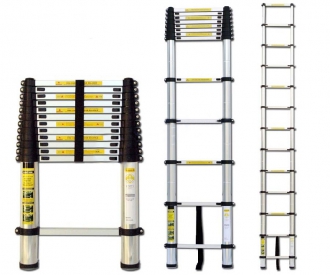 Top telescopic folding ladder design and light weight ensures perfect handling and compactness, composed ladder easily placed in the trunk of the vehicle. The ladder can be pulled out to the desired length of one degree each stage can be locked.
Design ladder meets European safety standards, ladders are certified to EN131. Hitchhiking mechanism for easy insertion ladder, each step is for more safety automatically blocked.
Suitable for painters, builders, gardeners, advertising agencies, etc.
Height: 381 cm max extended
Width: 47.5 cm
Number of rungs: 13
The distance between rungs: 29.5 cm
Capacity: 150 kg
Size (folded): 87.5 x 47.5 x 8.8 cm
Weight: 10.7 kg
Material: anodised aluminum in combination with a highly durable thermoplastic
Certification: EN131
Code: ALU-L381